SA bans meat imports from Brazil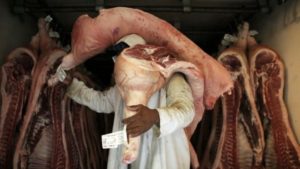 South Africa's Department of Agriculture, Forestry and Fisheries has suspended some meat imports from Brazil amid a scandal over adulterated meat in the Latin American country.
Police launched a corruption probe into the meat industry earlier this week, alleging that industry members had bribed officials to turn a blind eye to shipments of contaminated meat.
The Department of Agriculture, Forestry and Fisheries (DAFF) said it has requested Brazilian authorities to provide official information about the establishments that have been identified in the meat scandal.
"DAFF has also advised Brazilian authorities to ban all exportation of meat from such establishments until the issue has been resolved to the satisfaction of the South African Veterinary Authority" the department's statement reads.
It is not known how many consignments may have already left Brazil and are on their way to South Africa, however, DAFF is in the process of ensuring that the establishments implicated are suspended from exporting meat to South Africa, the statement says. The ban will remain in place until the Brazilian Veterinary Authority has fully investigated the matter and can give the necessary assurances for compliance to the requirements for importation of meat into South Africa.
China, the EU, South Korea, Chile and Canada also suspended some meat imports from Brazil on Wednesday.
Posted by
Steven Addamah
on March 23, 2017. Filed under
Zoom
. You can follow any responses to this entry through the
RSS 2.0
. You can skip to the end and leave a response. Pinging is currently not allowed.