Zambia: Opposition MPs suspended for 'disobedience' to President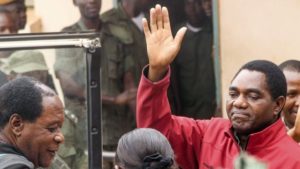 The speaker of the Zambian parliament, Patrick Matibini, on Tuesday suspended all the lawmakers of the United Party for National Development (UPND) for a 30-day period, because of their 'disobedience' to President Edgar Lungu
According to the speaker, the suspension was decided as the 48 members of the UPND, the main opposition party in the country, boycotted the president's address to the parliament in March this year.
The speaker said the ban takes effect immediately, arguing that if the lawmakers have issues with the legitimacy of the government, they should quit their office.
"I therefore challenge the UPND members that if they still maintain that they do not recognize the president, they should resign on moral grounds," Patrick Matibini said.
Hakainde Hichilema, Zambia's main opposition chief has been charged with treason for allegedly obstructing President Edgar Lungu's motorcade on a main road, according to police.
He has been transferred to a maximum security prison ahead of his trial for treason last weekend.
A Magistrate last Thursday ruled that the economist and successful businessman and five others should be tried by a High Court on charges of treason.
In Zambia, treason is punishable with a minimum jail term of 15 years and a maximum sentence of the death penalty.
Posted by
Steven Addamah
on June 14, 2017. Filed under
News
. You can follow any responses to this entry through the
RSS 2.0
. You can skip to the end and leave a response. Pinging is currently not allowed.