Mali: French troops kill at least 10 jihadists near Algeria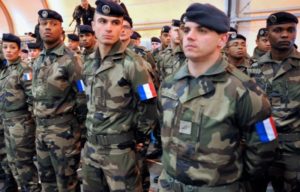 At least 10 suspected jihadists have been killed in a raid conducted by French air force on Wednesday in northeast Mali near the border with Algeria, Le360 Afrique portal reported.
The offensive was part of France's Operation Barkhane, near Tinzaouaten at the Algerian border, military sources were quoted as saying.
The raid lasted for about an hour, according to witnesses interviewed by the correspondent of Le360 Afrique in Mali.
Vehicles targeted by the raid were visible with at least 10 dead and two vehicles destroyed, a Malian military source told AFP.
France intervened in 2012 against Islamist militants that seized northern Mali. Around 4,000 of its troops remain in West Africa's Sahel region as part of Operation Barkhane, a cross-border anti-terrorism operation.
The 4,000-strong force is supporting the five-nation G5 Sahel force, designed to beef up security across the terrorism-stricken region south of the Sahara.
The G5 Sahel made up of troops from Mali, Niger, Chad, Burkina Faso and Mauritania launched its campaign late last year amid growing unrest in the desert, where al Qaeda and Islamic State-affiliated groups roam undetected.
Posted by
Geraldine Boechat
on February 15, 2018. Filed under
News
. You can follow any responses to this entry through the
RSS 2.0
. Both comments and pings are currently closed.