South Africa Finance Minister asks President to relieve him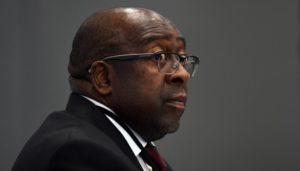 South Africa's Nhlanhla Nene has asked President Cyril Ramaphosa, who appointed him finance minister last year, to relieve him of his duties, The Sowetan newspaper reported on Monday.
According to the newspaper, the finance minister approached the president over the weekend with the request after his testimony at the state capture commission of inquiry, where he admitted to have met the Guptas.
He emphasized that it's common practice not only in South Africa but globally to attend gatherings, including dinners, at the residences of business people.
Nene, however, apologized on Friday for his previously undisclosed meetings with the controversial family at their Saxonworld compound and business premises from 2010 to 2014.
He conceded that context matters and as soon as he became aware of the controversy around the Guptas' business dealings, he should have met them rather at his office, accompanied – as is customary – by officials of the ministry of finance or national Treasury.
The Guptas have been accused by different government officials and activists of using their friendship with former President Jacob Zuma to enrich themselves.
Since taking office earlier this year, South African President Cyril Ramaphosa has been a man on a mission – determined to put a stop to "state capture."
Posted by
Steven Addamah
on October 8, 2018. Filed under
Zoom
. You can follow any responses to this entry through the
RSS 2.0
. Both comments and pings are currently closed.