Nigeria: IMF Welcomes New Forex Policy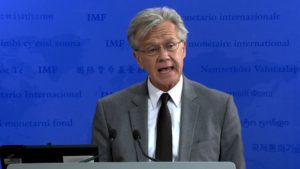 The International Monetary Fund on Thursday welcomed the decision by Nigeria government to abandon its currency peg and adopt a flexible exchange rate policy.
The West African oil-rich nation said on Wednesday it would begin "purely" market-driven foreign currency trading next week, abandoning its 16-month peg and setting the stage for the naira to fall sharply.
The international lender said it wanted to see how effectively the naira exchange market functions once the new float system is put into effect next Monday.
Nigeria's central bank previously pegged the naira at 197 to the U.S. dollar but the currency trades at about half that on the black market.
IMF Managing Director Christine Lagarde who visited the country earlier this year, urged Nigerian officials to allow the naira to fall to absorb some of the shock to the economy from a plunge in oil prices and revenues.
Africa's biggest economy, which contracted by 0.4 percent in the first quarter, faces its worst crisis in decades after the decline in oil prices and last year's introduction of a currency peg that prompted a large-scale capital flight.
Posted by
Khalid Al Mouahidi
on June 16, 2016. Filed under
Finance
,
News
. You can follow any responses to this entry through the
RSS 2.0
. You can skip to the end and leave a response. Pinging is currently not allowed.