Guinea: President Conde seeks IMF Ebola compensation
President Alpha Conde of Guinea has said that he is not worried about the upcoming presidential elections because he is focused on overcoming Ebola which has killed thousands of people and continues to ravage the economy. The number of new cases has been going down in the country. Conde has called on the International Monetary Fund (IMF) to erase the debts of his country alongside Sierra Leone and Liberia due to the immense negative effects of the deadly virus disease.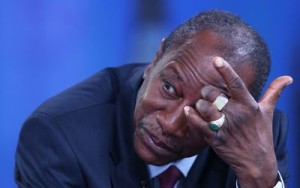 Conde acknowledged that "things are getting better" but urged for more vigilance. He said Ebola is a crucial factor that is hindering the country's development. "Our priority is to end Ebola, because everything stems from there," the president admitted. Only 20 new cases were registered last week compared to 45 the week before.
World Health Organization (WHO) said Ebola continues to be "extremely alarming" despite the fall of new cases. In the latest update, 8,688 people died from it among a cumulative total of 21,759 cases.
Meanwhile, opposition activists in the country staged a rally against Conde in the capital last week calling for his departure. Chants of "anyone but Alpha" could be heard from the crowd. The country will be holding elections this year but President Conde said politics is secondary on his agenda as at now.
"For the time being, I have a war to lead, the war against Ebola," he told the journalist from AFP interviewing him at Davos where he is attending the World Economic Forum. Conde wants the IMF to forgo the country's debt as a compensation of the damages the virus disease on its economy. The U.S supports the idea and calls for around a 20% wavering of the debts of Liberia, Sierra Leone and Guinea.
Posted by
Geraldine Boechat
on January 26, 2015. Filed under
News
. You can follow any responses to this entry through the
RSS 2.0
. You can skip to the end and leave a response. Pinging is currently not allowed.