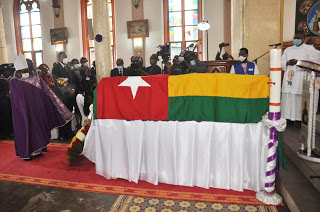 Several African personalities joined the Togolese nation on Thursday 20 August to bid a final farewell to Edem Kodjo, who passed away on 11 April. After tributes to the son of the land a few days ago in his village, farewells to the great state clerk, diplomat and former Prime Minister took place in the Sacred Heart of Jesus Cathedral in Lomé.
The body, covered with the national flag and carried by gendarmes, entered the cathedral where the Togolese Minister of Foreign Affairs Robert Dussey is speaking. He spoke of a man of excellence who accomplishes what he does with passion. "Grandeur and elegance, vision and anticipation, insight and generosity are among the intrinsic qualities of the personality of the illustrious departed.
Edem Kodjo is also the diplomat, former secretary general of the now defunct Organization of African Unity, who marked a generation of the continent. Among them is Jean-Claude Gakosso, the Congolese Minister of Foreign Affairs, who arrived from Brazzaville: "He left his mark on the young students that we were, when he published his book precisely on the occasion of the centenary of the Berlin conference. And this book said that Africa had been despoiled, but that Africa will stand up. These were not incantations. How will it stand up? By uniting. »
Archbishop Denis Amouzou-Djakpa, Archbishop Emeritus of Lomé, during the Requiem Mass, speaks of the Pan-African: "He has striven to fight ceaselessly for Africans to work to build a strong and proud Africa.»
So it was in unison and fervor that the nation and friends from all over Africa flocked to accompany Edem Kodjo to his final resting place.