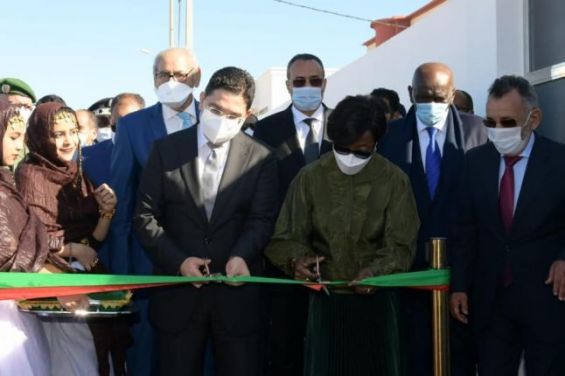 The Democratic Republic of Congo (DRC) has opened this Saturday Dec.19 a Consulate General in Dakhla, becoming the 9th country to have a diplomatic representation in the city in less than a year.
The inauguration ceremony was presided over by the Minister of Foreign Affairs of the Democratic Republic of Congo, Marie Tumba Nzeza, and her Moroccan counterpart Nasser Bourita.
Since the beginning of the year, the city of Dakhla has witnessed a strong diplomatic momentum with the inauguration of the consulates of the Gambia, Guinea, Djibouti, Liberia, Burkina Faso, Guinea Bissau and Equatorial Guinea, in addition to Haiti, the first non-Arab and non-African country to open a Consulate in the Moroccan Sahara.
The capital of the Moroccan Sahara Laayoune is witnessing the same momentum as it now hosts consular representations of the Comoros, Gabon, Sao Tome and Principe, the Central African Republic, Côte d'Ivoire, Burundi, Eswatini, Zambia, the UAE, and Bahrain, whose consular representation was inaugurated last Monday Dec.14.
Jordan and the US have also announced plans to set up diplomatic representations in the Moroccan Sahara.