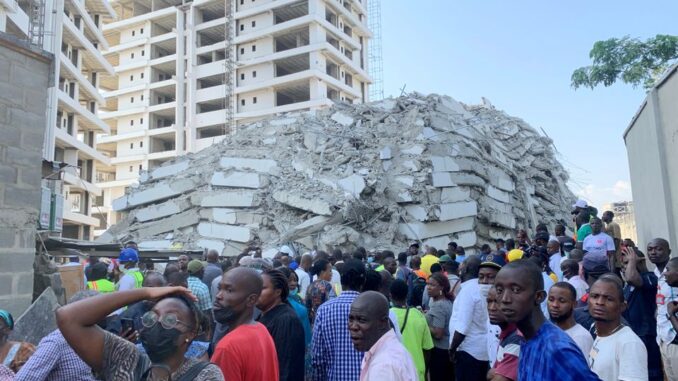 A skyscraper under construction collapsed Monday in Nigeria's economic capital Lagos, trapping people inside, according to construction workers and rescue officials.
Officials could not say how many people were trapped, but workers and neighbors were scrambling to pull people from the rubble of the 25-story building in the Ikoyi neighborhood, reporters saw on the scene.
"It is a 25-story building still under construction. Many workers are trapped under the rubble. We are trying to rescue them," said Femi Oke-Osanyintolu, an official of the Lagos State Emergency Management Agency.
According to local residents and workers at the site, some of whom were covered in dust, dozens of people could have been inside when the building collapsed.
"I went out to buy food and (…) I saw the building collapse," said Latif Shittu. "I feel very bad because the people inside have families."
Ikoyi is one of the most upscale residential and business areas in Lagos, the economic capital of some 20 million people.
Workers told that possibly 100 people were at work when the building came crashing down.
Building collapses are frequent in Nigeria, Africa's most populous country, where regulations are poorly enforced and construction materials often substandard.