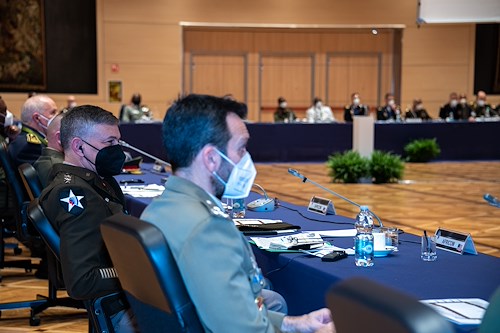 The Commander of the US Africa Command, General Stephen Townsend, has imputed the spate of coups in some African Countries to lack of good governance and corruption.
In the last 18 months, the military has seized power in Mali, Chad, Sudan and Burkina Faso.
Speaking during a virtual press briefing on Thursday, at the end of the 2022 African Chiefs of Defense Conference, hosted by AFRICOM in Rome Jan. 31 – Feb. 3, Townsend disclosed that the US government and military frowned on the development, saying that it was undermining democracy in the continent.
"Soldiers are undermining democracy in Africa. I cannot tell you why there are so many coups in Africa, I think the continent has enjoyed over 20 years of irregular and unconstitutional change of government but in the last year we have seen a number of them, I don't know why all that is but it has to do with lack of good governance and corruption," he said.
"One of the greatest threats to the rule of law in a democracy is the scourge of corruption, but the overthrow of elected leaders only deepens the problem," said Townsend. "These military seizures of power are inconsistent with democratic values and as professional military members, it is important that we stay out of politics so that we can remain a part of the solution."
"The US does not support and condone unconstitutional change of government and the broader effect they have on democracy and the progress of democracy but I think the lack of good governance and corruption are behind much of that," the US commander added.
"Our partnership with the nations in Africa is a partnership of friends, working together to address mutual security challenges and also to enable progress on political and development challenges as well," said Gen. Stephen Townsend.
Townsend also lamented the expansion of the Islamic State fighters in many African countries.
The 2022 African Chiefs of Defense Conference on "Shared Investment for a Shared Future" provided an opportunity to enhance relationships, encourage partnerships and discuss shared visions for the future of multinational coordination, operations and interoperability in Africa.
The conference discussions included five overarching panels: crisis preparation, response, and recovery; threats to security and rule of law; protecting resources; effects of technology; and interoperability.