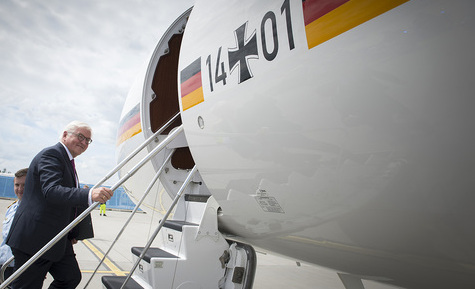 German President Frank-Walter Steinmeier, re-elected a week ago for a second term, is making an official trip from Sunday evening until Wednesday in Senegal. The Head of state is accompanied by a delegation of economic and cultural leaders for this visit dedicated beyond the host country to the region.
This is the second time that a German president has visited Senegal and it is the first foreign trip of Frank-Walter Steinmeier since his re-election a week ago. The head of state has a very busy schedule for these three days.
He will meet with President Macky Sall and the President of the National Assembly on Monday. The situation in Senegal but also in the region will be on the agenda of discussions. A meeting with personalities of the civil society is also planned.
On Tuesday, Frank-Walter Steinmeier will meet with experts on the Sahel and particularly on Mali. After the announced departure of French troops, the presence of the Bundeswehr is being discussed. In Bargny, the German President will meet with German soldiers on site specialized in the defense against explosives and ammunition.
This visit also has an economic dimension with a German delegation that will meet with Senegalese officials. During a visit to the Pasteur Institute in Dakar on Tuesday, the future vaccine production site will be discussed with the German company BioNTech. On Monday, Frank-Walter Steinmeier will lay the foundation stone of the new Goethe Institute in Dakar, built with African materials by the Burkinabe architect Francis Kéré, who lives in Germany.