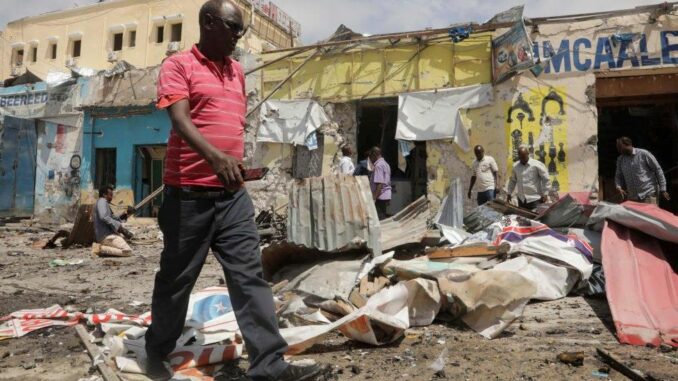 The death toll from a 30-hour attack on a Mogadishu hotel by radical Islamists, which ended around midnight on Saturday, has risen to 21 civilians killed, Somalia's Health minister said on Sunday.
"The health ministry has confirmed at this stage that 21 people were killed and 117 injured in the attack on the Hayat hotel in the Somali capital, which began on Friday night," said Minister Ali Haji Adan.
On Sunday, relatives of those missing in the attack were awaiting news of relatives following the combined bomb and gunfire attack by Shebab Islamists, an al-Qaeda affiliated group.
Security forces ended the attack on Saturday night, announcing the death of all the attackers.
Rescuers were trying to find any survivors among the rubble on Sunday morning, reporters said, while the area around the hotel was quiet and experts were working to detect any explosives.
The hotel suffered heavy damage during the standoff between the Shebab and security forces, with parts of the building collapsing.
The attack, claimed by the Shebab, is the most serious in Mogadishu since the new president Hassan Sheikh Mohamud took office in June, after months of political instability. It highlights the challenge posed to him by the 15-year Islamist insurgency against the federal government
Police Commissioner Abdi Hassan Mohamed Hijar told reporters on Sunday that "106 people, including women and children," were rescued by security forces during the siege, which ended around midnight.
"The victims were hit mainly in the first hours of the attack," he added.
Shebab spokesman Abdiaziz Abu-Musab said on Saturday on their station, Radio Andalus, that the group had "inflicted heavy casualties" on security forces.
A female witness, Hayat Ali, said three children from the same family, aged between four and seven, were found by security forces in a state of shock, hiding in the hotel toilet.
On Sunday morning, dozens of people searching for news of their loved ones were gathered in the street leading to the hotel, but were blocked off by security forces.