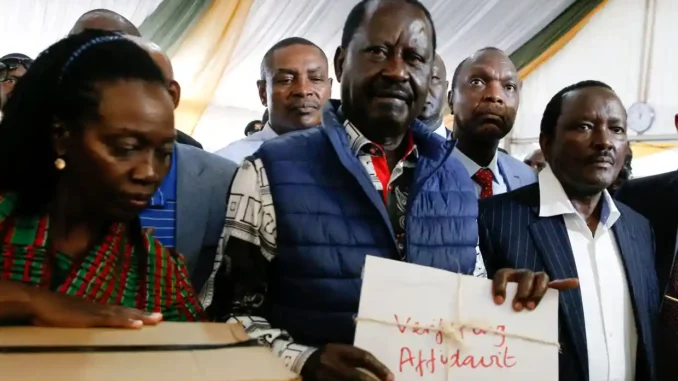 Raila Odinga, the runner-up in Kenya's August 9 presidential election, has filed an online appeal to the Supreme Court challenging the results, one of his lawyers said Monday.
Odinga, an opposition figure supported by outgoing President Uhuru Kenyatta, had announced his intention to challenge the results announced on 15 August by the electoral commission (IEBC), which he described as a "parody".
According to these results, he was ahead of the incumbent Vice-President William Ruto by about 230,000 votes (50.49% against 48.85%). The appeal "has already been sent to them and they will see it soon," Daniel Maanzo, who is part of the 77-year-old politician's legal team, said Monday morning.
"The physical copy has to arrive by 2pm" (11am GMT), the deadline for filing an appeal, he added: "We hope we have built a good case and that we will win.
Civil society groups also filed a case with the supreme court on Monday, requesting that it nullify Ruto's win for reasons including electoral fraud and process failures. They argue that the voter register was poorly managed, leaving it open to tampering.
"By the end, we weren't even sure how many people had voted," said Betty Okero, the national coordinator of the Angaza Movement coalition. "It was fuzzy through to the end."On 15 August, the announcement of the results by the IEBC chairman led to a split within the independent body in charge of organizing the election.
Four of the seven commissioners announced that they were rejecting the results minutes before they were announced, criticizing the IEBC chairman for his "opaque" management and lack of consultation.
Since 2002, all presidential elections in Kenya have been contested, sometimes leading to bloody clashes.