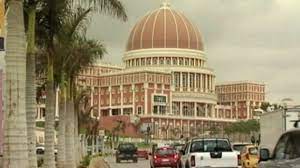 The deputies elected in Angola's parliamentary elections on 24 August will be sworn in next Friday, the Parliament's first secretary of the bureau, Raul Lima, announced, but opposition parties are still debating whether they will take their seats in the National Assembly.
Members of the National Assembly standing committee met yesterday to consider and vote on the proposed programme for the constituent meeting of the parliament's fifth legislature and the programme for the induction seminar for deputies (2022-2027).
The permanent commission is a body that operates outside the effective period of functioning of the National Assembly, having approved the programme of the meeting that has as its high point the investiture of the deputies elected on 24 August, as well as the election of the president of the National Assembly and other members of the board.
The next legislature has 220 members, of which 124 elected by the Popular Movement for the Liberation of Angola (MPLA), which won the elections, 90 from the National Union for the Total Independence of Angola (UNITA), two from the National Renewal Party (PRS), two from the National Front for the Liberation of Angola (FNLA) and two from the newcomer Humanist Party of Angola (PHA).
The inauguration of the deputies is preceded on Thursday by the investiture of João Lourenço, re-elected President of Angola for the next five years.