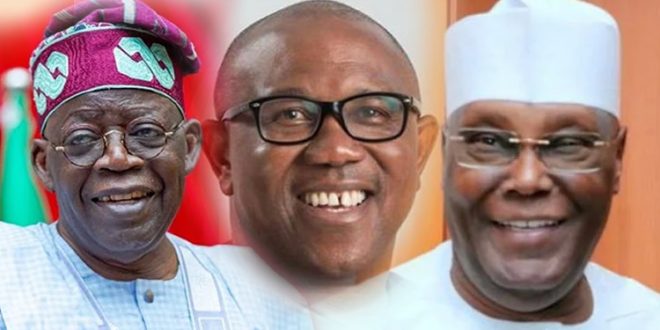 Four of the leading candidates in Nigeria's February 2023 presidential election pledged on Thursday not to promote any violence during the upcoming five-month campaign.
As Africa's most populous country, Nigeria has a long history of election-related unrest and malfeasance. In 2011, more than 800 people were killed in post-election violence in the country.
All four candidates have signed on to a "peace" pact, launched by the National Peace Committee, a private initiative bringing together religious, traditional and opinion leaders, calling on the candidates to promote a peaceful campaign.
National Elections Commission (Ceni) chairman Mahmood Yakubu said in a statement that "the commitment to a peaceful and issue-based election campaign should resonate beyond the presidential candidates.
"It is not enough to sign the peace agreement. What is more important is to respect its letter and spirit," he added. The candidate of the main opposition People's Democratic Party (PDP), Atiku Abubakar, the candidate of the Labour Party, Peter Obi, and the candidate of the New Nigerian Peoples Party, Rabiu Kwankwaso, all signed the document at a ceremony in Abuja.
The ruling All Progressives Congress (APC) candidate, Bola Ahmed Tinubu, former governor of Lagos, was not present at the ceremony, but his vice presidential running mate signed the pact on his behalf.
A total of 18 presidential candidates are running, including one woman. Voting is scheduled to take place on February 25.
The campaign, which officially opened on Wednesday, will last five months, which analysts say could deepen internal party battles and deepen divisions in a country already extremely polarized between a Muslim north and a Christian south.
The next president, who will replace Muhammadu Buhari after his two terms in office, will take the reins of a country facing immense challenges.