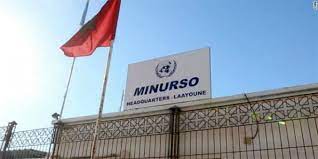 The United Nations Security Council adopted this Thursday a resolution extending the mandate of the UN mission in the Sahara, MINURSO, for one year, and enshrining, once again, the preeminence of the Morocco-proposed autonomy initiative to resolve the regional dispute.
The Security Council "decides to extend the mandate of MINURSO until 31 October 2023," reads Resolution 2654, authored by the United States. The resolution was adopted by 13 votes in favor and two abstentions.
In this new resolution, the executive body of the United Nations reaffirmed its support for the autonomy plan, proposed by Morocco in 2007, as a serious and credible basis on which the regional dispute over the Sahara can be resolved, as enshrined in several previous Security Council resolutions.
The members of the Council also reiterated their support to the efforts of the Personal Envoy of the UN Secretary General aimed at relaunching the political process towards a realistic, pragmatic, lasting and compromise-based solution.
In the resolution, the Security Council emphasized again the decisive involvement of Algeria in the dispute.
Actually, Resolution 2654, "strongly" encourages "all parties" – including Algeria – to "engage with the Personal Envoy through the duration of this process, in a spirit of realism and compromise to ensure a successful outcome."
The Security Council insisted in the majority of the resolution paragraphs that a solution to the dispute is only possible through the engagement of "all parties" to the dispute.
UN Secretary-General Antonio Guterres also shattered Algeria's lingering hope to shirk its responsibility in the dispute in his recent report on the situation in the Sahara, where he argued that a solution will be only possible "provided that all concerned [parties] engage in a good faith and there is continued support from the international community."
This new language carries a clear message to Algeria and the Polisario Front, which have been promoting narratives to challenge and defy the UN recommendations.
The report also recalled Morocco's commitment towards the UN-led political process, shown in its position favoring the relaunch of the roundtable talks that former UNSG envoy Horst Kohler initiated, convening all parties to the dispute, namely Morocco, Algeria, Mauritania and the Polisario.