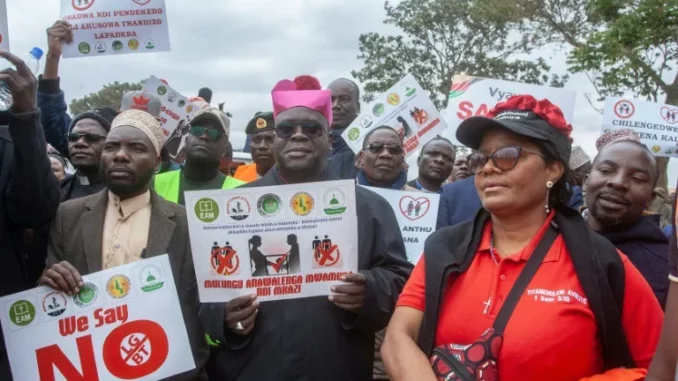 Around 5,000 people took part in an anti-LGBTQ demonstration on Thursday in Lilongwe, the capital of Malawi, a conservative southern African country where homosexual relations are illegal.
The rally took place against the backdrop of a lawsuit brought by a Dutch national and a transgender woman from Malawi challenging the constitutionality of the country's laws on homosexuality.
Organized by the local Catholic Church and supported by other religious groups, demonstrations also took place simultaneously in other major Malawian cities, including Blantyre, Mzuzu and Zomba. The demonstrators in Lilongwe were led by Archbishop Desmond Tambala. They marched through the city carrying placards before handing over a petition to MPs outside parliament.
"Homosexuality goes against everything we believe in as a people," said Sheikh Dinala Chabulika of the Malawi Muslim Association as he read out the terms of the petition. Reverend William Tembo of the Malawi Council of Churches said that homosexual relations were "strange": "We are not prepared to accept these phenomena that are unknown in Malawi", he said.
"We are a family-oriented nation, a God-fearing nation and that is why the church is opposed to same-sex relationships", he added. The demonstrators called on President Lazarus Chakwera, a former evangelical preacher, to resist pressure to legalise same-sex marriage. Government spokesman Moses Kunkuyu told the demonstrators that the administration would take into account the concerns raised by the religious leaders.