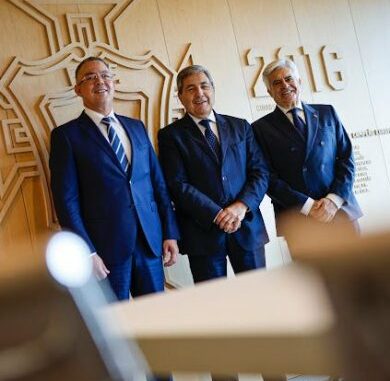 The presidents of the federations of Morocco, Portugal and Spain met Wednesday morning in Lisbon as part of the joint bid to host the 2030 World Cup.
The leaders' summit brought together Fernando Gomes (Portuguese Football Federation), Fouzi Lekjaa (Royal Moroccan Football Federation) and Pedro Rocha (Royal Spanish Football Federation) and made it possible to continue the preparation of the candidacy which unites two continents and aims to be the best in history for a World Cup.
It was the second time that the presidents of the three associations met, but the first after FIFA's decision on the 2030 World Cup was known.
At the meeting held in Cidade do Futebol, headquarters of the FPF, it was decided to present on October 28 the letter of intent to organize the World Cup, thus fulfilling one of the requirements of the application process.
This will be the first formal step towards the joint bid and will demonstrate the commitment of Morocco, Portugal and Spain to hosting a successful World Cup.
This solemn moment will take place in Rabat and will be followed by a press conference in which the presidents of the three federations will participate.
At the same time, the 2030 World Cup bid committee continued its work and, this Wednesday, in Madrid, held another follow-up meeting of the project.