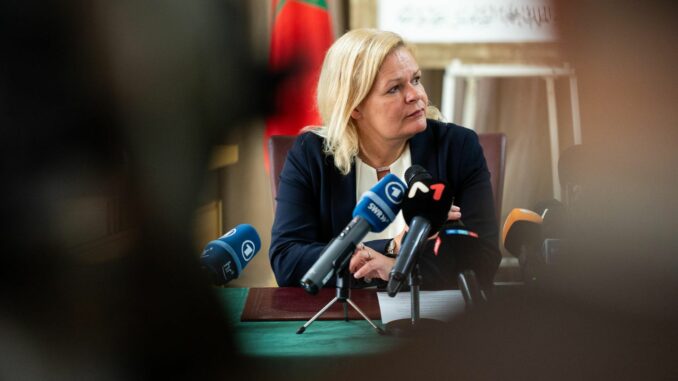 German Interior Minister Nancy Faeser has hailed Morocco's cooperation in matters of security and in the global fight against terrorism & organized crime.
Speaking to journalists following her talks held Monday in Rabat with Moroccan peer Abdelouafi Laftit, Mrs. Faeser described the North African Kingdom as a key regional player and a privileged EU partner, stressing the importance of expanding bilateral cooperation to include civil protection, inclusive and innovative digitalization.
Regarding the issue of migration, the German minister called for strengthening legal migration in order to combat human trafficking and illegal migration.
Mrs. Faeser conferred the same in Rabat with Minister of Employment & Skills Younes Sekkouri on professional mobility schemes, Morocco's economic & social reforms, promotion of legal migration and cooperation prospects in youth vocational training.
The meeting between the two interior ministers highlighted by the signing of a joint declaration of intent aimed at strengthening cooperation between the two departments in the areas of security, migration, civil protection, and the fight against different forms of cross-border crime, on the basis of equality, equal treatment, common interest and mutual esteem.