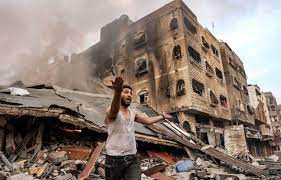 Morocco, whose Sovereign, King Mohammed VI, chairs the Al-Quds Committee, reiterates its deep concern and indignation at the resurgence of military action and the worsening humanitarian situation in the Gaza Strip.
More than three weeks after the outbreak of military clashes, civilians are still being targeted, with thousands of children and women killed and tens of thousands wounded, homeless and missing. Places of worship, hospitals and refugee camps are still being bombarded, the latest being the Jabalya camp.
Missiles and shells continue to be fired at random against civilian installations, forcing over a million people to move and depriving the population of water, electricity and fuel, creating a catastrophic humanitarian situation, said the Foreign Ministry in a statement.
Morocco affirms that all these Israeli acts of escalation are in contradiction with international humanitarian law and common human values, and warn of a spread of the conflict within the Palestinian territories and the dangerous widening of the perimeter of violence to affect neighboring areas, thus threatening the security and stability of the entire region, the statement added.
Morocco renewed its stand in support of the Palestinian authority led by Mahmud Abbas and called for a ceasefire and allowing the immediate delivery of humanitarian aid, through the opening of humanitarian corridors to facilitate the entry of aid in a swift, sustainable and unhindered manner.
It also called for "the release of hostages and detainees" and reaffirmed support for the two-state solution.