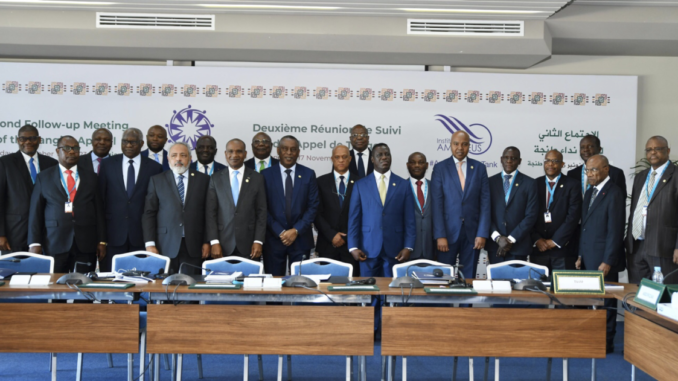 Five new African leaders have joined the signatories of the "Tangier Appeal" for the expulsion of the so-called SADR from the African Union (AU).
During a follow-up meeting of the Tangier Appeal, held Friday on the sidelines of the 15th edition of the MEDays Forum, five former African foreign ministers signed this Appeal, launched from Tangier on November 4, 2022 by former African Prime Ministers and Foreign Ministers.
The new signatories are David J. Francis, former Prime Minister and Foreign Minister of Sierra Leone; Urbino Botelho, former Foreign Minister of Sao Tome & Principe; Ezechiel Nibigira, former Foreign Minister of Burundi; Albert Mabri Toikeusse, former Foreign Minister of Côte d'Ivoire; and Cheikh Tidiane Gadio, former Foreign Minister of Senegal and initiator of regional roundtable discussions on the expulsion of pseudo-SADR from the African Union.
This brings to 23 the number of "Tangier Appeal" signatories since its launch a year ago.
During the follow-up meeting, the Tangier Appeal signatories welcomed the continental impact and the momentum generated by this initiative, reiterating their commitment to continue working for the urgent exclusion of the self-proclaimed "Sahrawi Arab Democratic Republic" (RASD), a non-state entity, from the African Union.
The growing commitment in Africa in favor of the Moroccan sovereignty over the Sahara was also welcomed by the signatories, who stressed that the opening of new consulates in Dakhla and Laâyoune testifies to the vitality of pan-African dialogue and the common desire to overcome divisions, inherited from a bygone era, to build a prosperous future in Africa.
The signatories also welcomed Resolution 2703 of the UN Security Council, recognizing that the Sahara conflict can only be settled through a just, lasting, and mutually acceptable solution, and promoting pragmatism, realism, and compromise spirit, which characterizes the Moroccan autonomy plan.
They reaffirmed their full support for the Moroccan Autonomy Plan as the only solution for the definitive settlement of the regional dispute over the Sahara.
Welcoming the international support that this plan continues to garner, they called on the African and international community to fully adhere to the Moroccan Autonomy Plan to put an end to this conflict which has lasted too long.
The appeal signatories also reiterated their full commitment to achieve the objective of the expulsion of the pseudo-SADR from the African Union, a key prerequisite for the return of impartiality and credibility of the Pan-African Organization on the Sahara issue.