Moroccan King's Sister, Winner of 2018 Goi Peace Award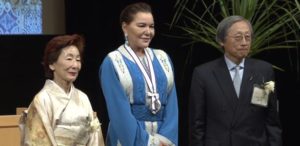 Princess Lalla Hasnaa, the youngest sister of King Mohammed VI and chairwoman of the Mohammed VI Foundation for Environment Protection, has received the 2018 Goi Peace award at a ceremony during the Goi Peace Foundation Forum 2018, held in Tokyo this Friday (Nov. 23).
The GOI Peace Foundation, set up in 1999, seeks to promote dialogue and initiatives for peace. Its philosophy and action are based in particular on Mount Fuji's "Declaration for All Life on Earth", which lays down the principles of global responsibility for building a peaceful and sustainable world in the 21st century.
In a warmly applauded address she made on receiving the award, Princess Lalla Hasnaa stressed the importance of developing "rules and regulations, even restrictions to protect our environment, and safeguard the remarkable diversity of the planet."
"What is essential (…) is to contribute to the emergence of a different world – a world based on cooperation, in which the responsibility for environmental protection, is shared by all, requiring equal effort from all of us," said Princess Lalla Hasnaa.
"Given the huge challenge posed by environment protection, a task which involves all citizens, education should come before all other means and considerations," she noted, adding "it would be more beneficial and effective to give proper education to our children, instill in them another culture, and foster a different relationship with the world, and towards others."
"I am a daughter of Al Maghrib, or the Kingdom of the Setting Sun, who has come to the land of the Rising Sun, to receive this Award. Between our two countries, the sun never goes down. I hope that eternal light will be the light of everlasting peace, which we dedicate along with this Award – to the children of our two countries," she said.
Established by the Goi Peace Foundation in 2000, the Goi Peace Award is an international award presented annually to honor individuals and organizations in various fields that have made outstanding contributions toward the realization of a peaceful and harmonious world as envisioned in the Declaration for All Life on Earth. Among the prominent recipients of the award since 2000, there are Mikhail Gorbachev, Bill Gates, Oscar Arias Sánchez and environmentalist Lester Brown.
When announcing the Goi Peace Award winner, the selection committee had said it choose Princess Lalla Hasnaa for her leadership in promoting the protection of the environment and improving people's quality of life, particularly through education and advocacy for sustainable development.
Actually, Princess Lalla Hasnaa has been involved in activities in the service of Moroccan society, with a particular interest in social, cultural and environmental issues.
In 1999, she launched the national campaign to protect the country's coastline and beaches. To institutionalize this effort, the Mohammed VI Foundation for Environmental Protection was established in 2001, and Princess Lalla Hasnaa was appointed as president.
In this capacity, she initiated various programs and activities for environmental protection and education, and in 2007, she was appointed "Coast Ambassador" by the Euro-Mediterranean Regional Program for the Environment, backed by the United Nations.
Posted by
Hafid El Fassy
on November 23, 2018. Filed under
Columns
,
News
,
Zoom
. You can follow any responses to this entry through the
RSS 2.0
. Both comments and pings are currently closed.