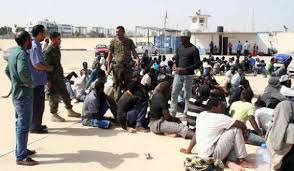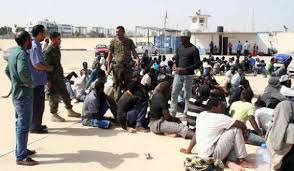 Algerian authorities' recent move to round up and deport hundreds of sub-Saharan migrants has produced a global outcry, all the more so as the measure was carried out indiscriminately and even concerned sub-Saharans who were legally settled in the country or having refugee status.
Several local and international NGOs have decried the measure as well as the dire and degrading detention conditions of the migrants in makeshift centers.
The Algerian League for the Defense of Human Rights (LADDH) said the more than 1400 people detained in "disastrous" conditions include children, pregnant women, sick people, "irregular migrants, asylum-seekers and refugees." They are all victims of this "arbitrary and violent" retention operation, the NGO deplored in a statement released after the operation started on December 1.
Several hundreds of the 1,400 migrants arrested by security forces in and around capital city Algiers have been reportedly driven southwards to a camp in Tamanrasset, wherefrom they were deported across the border into Niger.
The LADDH accused Algerian authorities of violating international standards relating to the rights of refugees, asylum seekers and migrants. The league also criticized the exclusive management of the migration issue in Algeria by the police.
Human rights Watch on its part criticized the mass and summary deportation of the Sub-Saharans and called on Algeria to stop these deportations.
"A mass and summary deportation of migrants, including men and women who may have fled persecution or have worked for years in Algeria, would violate their rights," said Sarah Leah Whitson, Middle East and North Africa director at Human Rights Watch. "The right of a country to control its borders is not a license for lawlessness."
The New York-based NGO said the migrants forcibly transported to Tamanrasset include some registered refugees and asylum seekers, as well as migrants who have lived and worked for years in Algeria.
HRW also criticized Farouk Ksentini, the head of the National Consultative Commission for the Promotion and Protection of Human Rights, a state institution that reports to the presidency, for his discriminatory and disparaging comments on migrants.
Ksentini had accused migrants of "spreading diseases," including AIDS. "These diseases are commonplace in these communities," he was quoted as saying in the Algerian daily Assawt Al Akhar (The Other Voice.)
He had said that the presence of migrants and refugees in several regions of the country can lead to many problems for Algerians, and that these migrants "don't have a future in Algeria." He reaffirmed these remarks in an interview with the news site Tout sur l'Algérie, HRW recalled.
The results of a study published last February in Algiers, unveiled the great misery of the Sub-Saharans established in Algeria. The study was carried out by the NGO Médecins du Monde.
According to estimates, the number of sub-Saharan migrants in Algeria ranges from 60,000 to 100,000.