The Supreme Court of Kenya on Monday unan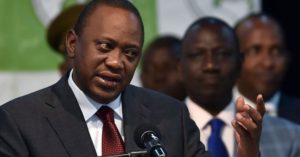 imously upholded the re-election of Kenya's incumbent President Uhuru Kenyatta.
President Uhuru Kenyatta has been declared winner of last month's rerun presidential election, which was boycotted by main opposition leader Raila Odinga.
Kenyatta garnered 7,483,895 votes representing 98.26%. National Super Alliance (NASA) candidate Odinga garnered 0.96% of the vote despite his boycott.
In his reading, the President of the court said they had paid attention to the specific prayers of petitioners as well as constitution in delivering their decision.
The court had nullified the August 8 election on account of illegalities and irregularities. The petitioners had argued that the outcome should be voided because the election board did not seek fresh nominations and because the vote was not held in each of Kenya's 291 voter constituencies.
The Monday ruling has paved the way for Kenyatta's swearing in for second term in office on November 28.
Two people were killed on Friday as Kenyan police tried to disperse supporters cheering a convoy carrying opposition leader Raila Odinga.
The supporters of the opposition National Super Alliance (Nasa) had gathered to welcome home Raila Odinga, from an overseas trip. Odinga has called for a "national resistance movement" to "restore democracy".