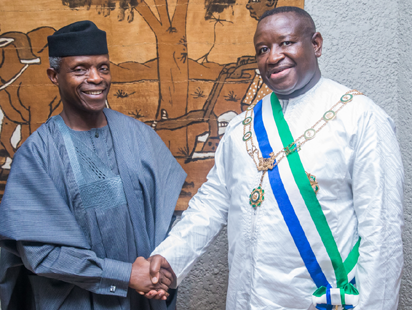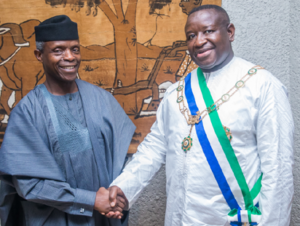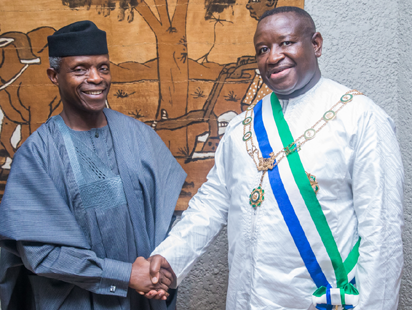 Julius Maada Bio, Sierra Leone's new president, who was briefly a leader of a junta during Sierra Leone's civil war, has been sworn into office on Saturday in the capital Freetown in front of a crowd of some 50,000 supporters of the ruling SLPP party.
Liberian President George Weah, Senegalese President Macky Sall, Guinean President Alpha Condé, Togolese President Faure Gnassingbé and Nigerian Vice President Yemi Osinbajo and delegates of many other countries attended the inauguration ceremony.
Celebrities present at the ceremony included Nigerian actress Omotola Jalade and Senegalese music icon Youssou Ndour.
Julius Maada Bio was declared the winner of Sierra Leone's elections on April 4 with 51.81 percent of total votes cast against the APC's Samura Kamara, who pulled in 48.19 percent.
Dressed in flowing white robes, the new president, who briefly ruled Sierra Leone as head of a military junta in 1996, vowed to revive the country's economy.
He pledged to wage a three-front war against indiscipline, corruption and poverty. Bio also promised to set up a special anti-corruption division in the High Court of Sierra Leone to promote judicial specialization and expeditious trial of corruption cases.
The new administration is expected to satisfy International Monetary Fund requirements for budget adjustments in order to restart a five-year $224m program.
The retired brigadier takes over from Ernest Bai Koroma who had been in power since 2007 and was obliged to step down after serving his constitutionally mandated two terms. Koroma's government was criticized over its response to mudslides that killed hundreds in Freetown, the capital, in August.