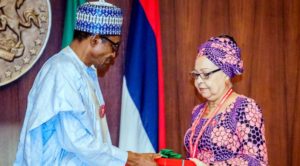 Nigerian President Muhammadu Buhari on Tuesday inked an agreement with organized labor raising the minimum wage in Africa's most populous nation.
Buhari gave his approval while receiving the report of a Tripartite Committee on the Review of National Minimum Wage at the Presidential Villa in Abuja.
To be enacted, the bill needs to be endorsed by the National Assembly. The new minimum wage of 30,000 naira is almost double the now former 18,000 naira.
The Nigerian Labor Congress, NLC, Trade Union Congress, TUC, United Labor Congress, ULC, and other labor unions had earlier suspended a planned nationwide strike.
The president, who said he was committed to seeing the new wage come into fruition, chronicled all the events leading to the final resolution, saying he was regularly briefed on updates on the negotiations.
A comprehensive policy of improved remuneration for workers and public servants in the country was being worked out.
Workers would benefit from a "genuine pension scheme" which would make them better civil servants, he said.
While the Senate hailed the Federal Government and Organized Labor for reaching an agreement on a new minimum wage, the President of the Senate, Bukola Saraki, criticized the Federal Government for waiting to review the minimum wage until Labor proposed industrial action. The upper chamber of the National Assembly urged both parties to respect their agreements.