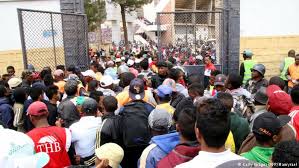 At least 15 people were killed and 75 wounded in a stampede Wednesday at a concert in Madagascar's capital to mark the country's Independence Day.
Just before the start of an appearance of a popular singer in the city stadium, the crowds surged causing the deaths from trampling, said the national police.
Defense Minister General Richard Rakotonirina said it was unclear what had caused the stampede.
According to Associated Press, the death toll is likely to increase because several of the wounded are in critical condition.
President Andry Rajoelina visited victims in hospital and told reporters that the state would cover the medical costs of those injured.
The tragedy occurred as Madagascar was celebrating the 59th anniversary of its independence.
President Andry Rajoelina, and his counterpart of Rwanda Paul Kagame together with almost 40,000 guests and citizens participated in the celebration which lasted three hours at Mahamasina Stadium.
A military parade was also held as 3,000 members of the armed forces came in several arrays.
The Wednesday incident is the second recent deadly incident at the stadium.
Last year, during a soccer match between Madagascar and Senegal, a crowd stampede at the entrance of the stadium killed one person and injured 37.