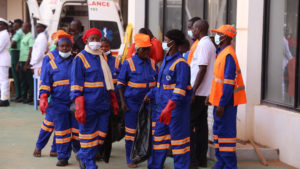 In Ghana, Zoomlion, the country's biggest company that manages waste in several cities is planning to set up a waste processing plant in each region of the West African nation.
According to the company managers, about 12,710 tons of solid waste are generated daily in Ghana. As far as liquid waste is concerned, the city of Accra alone produces 26,000 m3 of liquid waste every day.
Zoomlion's CEO who has recently commissioned a recycling plant in the city of Accra with a daily capacity of 200 tons said his company has decided to help the government establish waste treatment centers in all regions to serve as research centers for universities.
In his words, these centers can offer more benefits than simply landfilling.
For the moment, Zoomlion only processes 400 tons of waste collected per day. Biodegradable materials are transformed into fertilizer for farmers. Plastic is sold to other (private) operators who add raw materials to it to make products such as chairs, buckets or bowls.
A recent research commissioned by the Institute of Environment and Sanitation at the University of Ghana, indicates that the lack of waste recovery infrastructure represents a shortfall of $300 million per year for Ghana.
The study also indicates that 67% of waste generated in Ghana are biodegradable with Food waste forming 79% of this fraction whereas recyclables including plastics, textiles, metals, glass, rubber and leather accounted for 22%, significant enough to sustain a major recycling initiative.