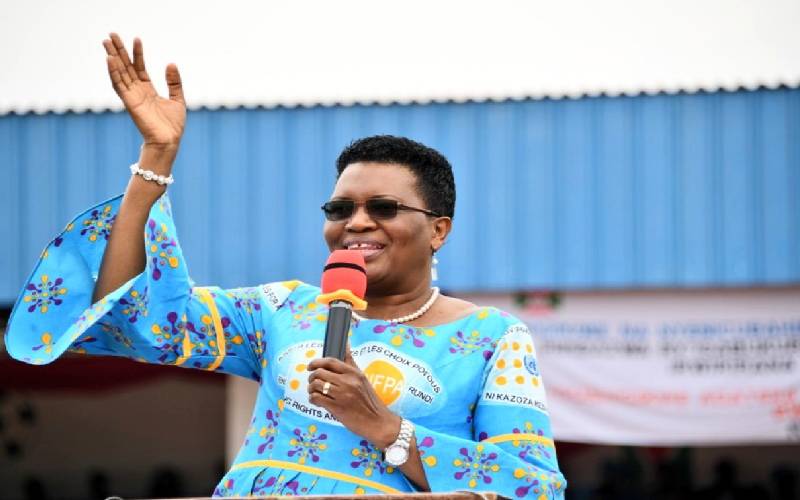 The Burundian First Lady has been hospitalized for several days in Nairobi. Denise Nkurunziza arrived in the Kenyan capital during the night of Wednesday to Thursday, on a flight of the health organization AMREF. The wife of President Pierre Nkurunziza is being cared for at the Aga Khan Private Hospital, one of Kenya's most renowned hospitals. Several sources confirm that she is suffering from Covid-19.
Several sources in Burundi and Kenya confirm that Denise Nkurunziza is being treated in Nairobi after catching Covid-19. The First Lady and her husband have been saying for several months now, in meetings and sermons, that the Lord is protecting Burundi from the pandemic.
"We can meet without masks, because God cleans the air of the country," President Nkurunziza said after the transfer of his wife.
In this context, it is not surprising that the Burundian government wanted to remain discreet. According to the Kenyan press, Denise Nkurunziza was allegedly transported in an isolation chamber, accompanied by doctors and bodyguards. She reportedly arrived in the middle of the night, when Bujumbura and Nairobi airports had turned off their lights and kept staff away.
The First Lady was accompanied by three guards who have also been admitted in the same facility after testing positive for coronavirus.
Several sources confirm that the Burundian Minister of Health was also hospitalized last week in Nairobi after he too contracted the coronavirus.
Note that Burundi on May 12 ordered the country's top World Health Organization (WHO) representative and three other experts coordinating the Covid-19 response to leave the country after declaring them persona non grata.