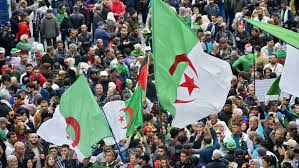 Karim Tabbou, a Hirak figure, was released temporarily on 2 July. The opposition leader of the small unregistered UDS party had been in prison for more than nine months.
Since his arrest last September, Karim Tabbou's portrait, and calls for his release, have ranged from all the weekly Hirak demonstrations to their suspension on account of coronavirus in March. Karim Tabbou, a figure of this protest movement, left Kolea prison on Thursday afternoon. The Algiers court accepted the request for provisional release presented by his lawyers.
The opponent was sentenced last March, on appeal, to one year in prison, compared to six months in first instance, for "attacking the integrity of the national territory". Since then, his defence and supporters have denounced the conditions under which the trial was held. In particular, the accused had refused to appear without his lawyers, and then collapsed in the middle of the hearing. It should be noted that Karim Tabbou is also being prosecuted in another case, for harming the morale of the army. Earlier this week, this trial was postponed to 14 September.
This court decision comes as the country's Independence Day, 5 July, approaches. On Wednesday evening, the presidency announced a pardon for six people, three of whom are linked to Hirak, according to the National Committee for the Release of Detainees.
Other faces of Hirak appear this Thursday, July 2. The verdict in the appeal trial of Amira Bouraoui, a well-known opponent of former President Abdelaziz Bouteflika, has been postponed until 24 September. Bouraoui was sentenced to a year in prison on 21 June. She too, however, was released the same day.