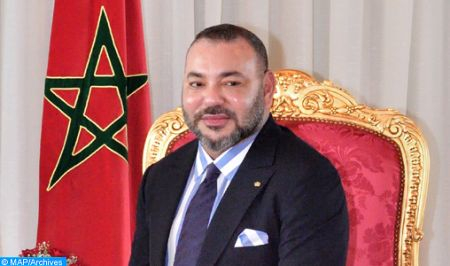 King Mohammed VI has had this Friday a phone talk with Israel's Prime Minister Benjamin Netanyahu, during which he reiterated Morocco's unwavering stand on the Palestinian question, and underlined the strong ties binding the Jewish community of Moroccan origin to the Moroccan Monarchy.
During the phone talk, the Monarch recalled the strong and special ties binding the Jewish community of Moroccan origin and the Moroccan Monarchy, the Royal Office said in a statement.
The Monarch also reiterated « the consistent, unwavering and unchanged position of the Kingdom of Morocco on the Palestinian question and the pioneering role of the Kingdom in promoting peace and stability in the Middle East, » said the statement.
« It is in this context that the King welcomed the reviving of cooperation mechanisms between Morocco and Israel, and the resumption of regular contacts, within the framework of peaceful and friendly diplomatic relations, » the Royal Office statement added.
The phone call came after Morocco and Israel decided to establish diplomatic relations, as announced on December 10.
For his part, the Israeli Prime Minister assured the Monarch of his determination to implement all the commitments made, according to a precise schedule of implementation, the Royal Office statement stated, adding that « the trilateral declaration between the Kingdom of Morocco, the United States of America and the State of Israel, signed before the King on December 22, is the frame of reference for the development and evolution of these relations."
The Joint Declaration was signed during the visit to Rabat of a high-level American-Israeli delegation, led by White house Senior Adviser Jared Kushner and Israel's Security Adviser Meir Ben Shabbat.