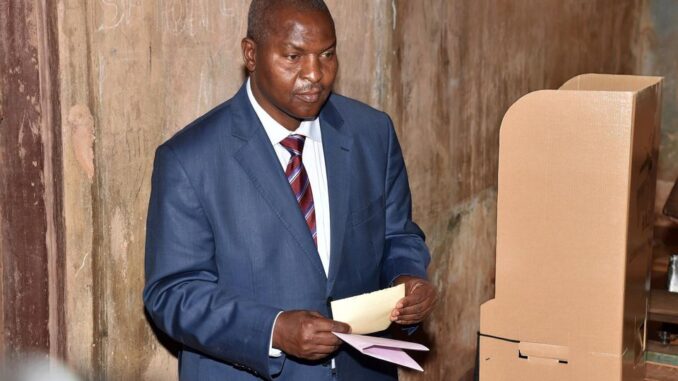 Outgoing President Faustin-Archange Touadéra was declared re-elected this Monday 4 January in the first round with 53.92% of the votes, according to the provisional overall results of ANE. He is ahead of Anicet-Georges Dologuélé with 21.01% of the votes, and Martin Ziguele in third place at 7.46%.
Faustin-Archange Touadéra was announced winner of the presidential election in the first round by ANE, the national authority in charge of elections in the Central African Republic. According to the provisional results, which have yet to be validated by the Constitutional Court by 19 January at the latest, the outgoing president was re-elected ahead of Anicet-Georges Dologuélé and Martin Ziguele. All other candidates received less than 2% of the vote.
The national campaign director of Faustin-Archange Touadéra, Simplice Mathieu Sarandji, said he was "very happy" to see his candidate elected "brilliantly". "Today, the Central African people have understood that it was not necessary to "change a team that wins"".
But the opposition has already announced that it will challenge the results. It denounces, among other things, "massive fraud", lack of "transparency" and the fact that "many Central Africans" were unable to go to the polls. The results announced Monday cover only half of the polling stations in the country.
ANE, the authority in charge of elections, puts forward a figure of 76.31% participation. However, this percentage is only calculated on the basis of 910,000 registered voters, i.e. around half of the 1.8 million voters on the electoral roll.
The elections were held in a context marked by insecurity in one part of the country, following the birth of a new coalition of rebels before the elections.
The Central African authorities accuse former President François Bozizé of being the instigator, whose candidacy for this presidential election had been rejected by the Constitutional Court. On Monday, the Bangui public prosecutor's office announced the opening of an investigation against him. The night before the election, François Bozizé publicly gave his support to the rebels, but his party denies that he is the leader.