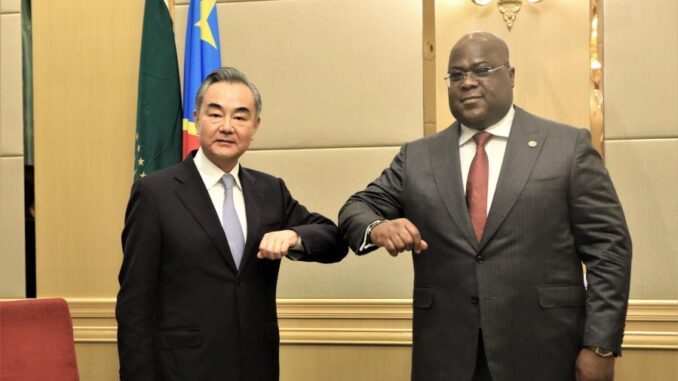 Coming from Nigeria, the Chinese Foreign Minister, Wang Yi, was received, Wednesday, January 6, by President Félix-Antoine Tshisekedi in Kinshasa. During this audience, the two men discussed the strengthening of relations between China and the DRC, including the case of what are called here, the "Chinese contracts".
Transparency, effectiveness, efficiency. This is Kinshasa's stated objective in its relationship with Beijing. And it is in this spirit that the Congolese side intends to strengthen the Sicomine project, in other words the "Chinese contracts" that were much talked about during the reign of Joseph Kabila. Two initiatives, in 2007 and 2008, which provided for the granting of loans from the Chinese Exim Bank of around 14 billion dollars. Loans that gave China access to billions of dollars worth of copper and cobalt reserves.
This "contract of the century" was reassessed in 2009, despite opposition from the IMF, which had argued that the DRC could not enter into a new arrangement with a preferential creditor at a time when it still owed Western creditors more than US$11 billion. In Kinshasa, Wang Yi announced that China intends to accompany the DRC in the policy developed by President Tshisekedi in the face of the development challenge. Support also for the efforts of the current Congolese head of state in his fight against corruption and for the improvement of management, added the head of Chinese diplomacy.
The Chinese minister also announced the cancellation of a US$28 million debt of the DRC and a US$2 million support to the mandate of Felix Tshisekedi as chairman of the African Union. Beijing also signed a memorandum of understanding with Kinshasa on DRC cooperation with the Chinese Silk Road Initiative (whose objective is to support large trans-country infrastructure projects to promote trade). It is also in this framework that the Chinese Foreign Minister left Kinshasa yesterday, Wednesday, to continue his journey on the African continent. Next steps: Botswana, Tanzania and the Seychelles.