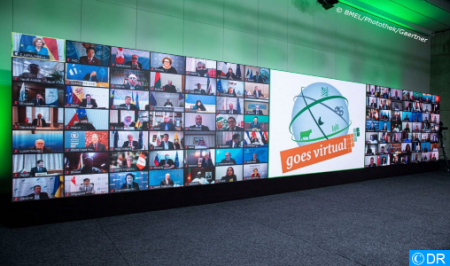 Global agriculture faces the challenge of ensuring food for 9 billion people by 2050, while preserving the environment and natural resources, stressed Moroccan Minister of Agriculture, Aziz Akhannouch at the Ministerial Conference of the 13th Global Forum for Food and Agriculture (GFFA), held virtually on Friday.
"The challenges facing agriculture in the world are mainly embodied in the need to ensure food for 9 billion people by 2050, while preserving the environment and natural resources, in addition to collective participation in the fight against climate change and adaptation to its effects," the minister was quoted as saying in a statement from his department.
Akhannouch, who chaired alongside the Director of the World Bank's agriculture and food pole a round-table discussion on "adaptation to climate change", noted that in the absence of action by the international community to mitigate the effects of climate change, the world will be confronted with the risk of an increase in the number of people living in poverty by 100 million by 2030, with a risk of exposure of 600 million people to malnutrition.
The round-table, which was attended by 30 ministers and senior representatives of international organizations, focused on the growing threat of climate change that endangers global food security, the growing water scarcity, the increasing desertification and its impact on agricultural yields.
It also discussed ways to combat these phenomena and make agriculture more resilient to these changes through enhanced international cooperation and research, the statement said.
The interventions and recommendations of this round-table, relayed by the Moroccan official during the plenary of the ministerial conference, concluded on the important role of governments in supporting the transition of farmers, especially smallholders, and the need for all stakeholders in the value chain to build more resilient food systems through incentives, innovation and the development of training, education and advisory solutions.
The Ministerial Conference was crowned by an official declaration stressing the need to promote cooperation and solidarity through multilateral sectors, reduce the impact of the new coronavirus (Covid-19) on food security and nutrition, mitigate the effects of epidemics in the future and adapt to climate change through practical measures relating to the functioning of markets.
Representatives from nearly 100 countries took part in the ministerial conference, including the UN Secretary-General, the Director of the Food and Agriculture Organization (FAO), the Head of the World Health Organization (WHO), the European Commissioner for Agriculture and the Director of the World Food Program (WFP).