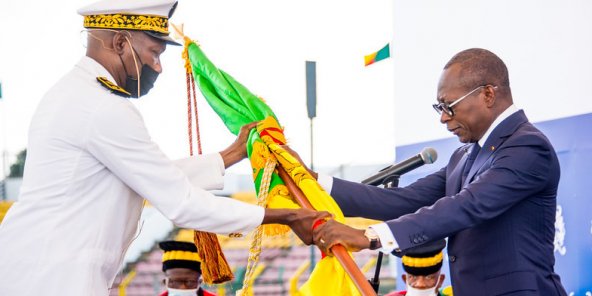 Forty-eight hours after his inauguration, the Beninese president made public Tuesday evening the list of his new government. It is a minimal reshuffle; Patrice Talon separates from his spokesman, Alain Orounla and promoted some loyalists.
The very dedicated spokesman minister leaves the government. Opinion and social networks have commented and mocked this departure. But surprise in the evening, on a private television, Patrice Talon himself, during an interactive program, called and intervened as a viewer to defend his spokesman: "he did not deserve it and will be called to other functions very soon.
The fact remains that there were only three departures and Alain Orounla was one of them.
Only one position was given to the political allies, a portfolio attributed to the party of Me Adrien Houngbedji, one of the oldest political formations born during the national conference of 1990.
The size of the team did not change, with 23 ministers, almost all of them technocrats. There have been only 2 new entries. Patrice Talon has promoted the young Romuald Wadagni, Minister of State. Still in charge of the economy and finance, it is to him that the country owes its economic upturn.
Another loyalist rewarded, the former director of communication Wilfried Houngbedji appointed government spokesman.