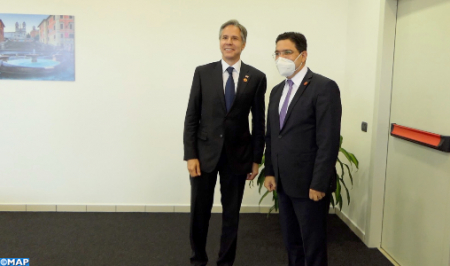 Moroccan Minister of Foreign Affairs Nasser Bourita and US Secretary of State Antony Blinken held talks Monday in Rome on the sideline of their participation in the ministerial meeting of the Global Coalition to Defeat Daesh hosted by Italy.
At their first face-to-face talks, the two officials reviewed the bilateral strategic partnership and the means to strengthen it within the framework of the vision of King Mohammed VI regarding the strong multidimensional relations between Morocco and the United States.
The two officials also discussed issues of common interest as well as some regional issues in which Morocco plays a key role, such as the Middle East and the Libyan crisis.
The latest talks between the two officials were held over the phone on April 30. They had then welcomed the strategic, strong, and enduring partnership linking the two countries.
Blenken had commended the reforms spearheaded by King Mohammed VI and his efforts in addressing challenges relating to climate change as well as his leadership in promoting renewable energies and the green economy.
"The Secretary and the Minister (Bourita) discussed King Mohammed VI's far-reaching reforms over the past two decades, and the Secretary encouraged Morocco to continue implementing these reforms," the US State Department had then said in a statement.
Blinken commended the King's "leadership" in combating climate change and investing in renewable energy and encouraged Morocco to "help promote green economic growth and development in Africa."
The two parties had also discussed "opportunities to increase cooperation in Africa to promote economic prosperity and stability and the Secretary highlighted Morocco's key role in fostering stability in the Sahel and Libya."