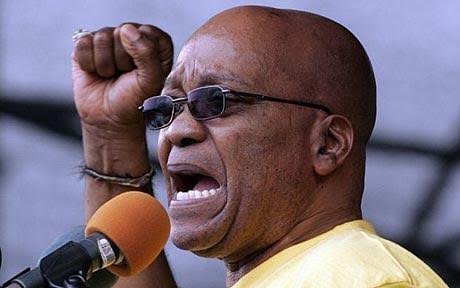 South Africa's Constitutional Court on Tuesday sentenced former President Jacob Zuma to 15 months in prison without suspension for contempt of court after he refused to appear before an anti-corruption commission. Jacob Zuma, who said he had no fear of arrest, conviction or imprisonment, now has five days to surrender. If he does not, the police will be allowed to take him from his home to a prison where he will begin serving his sentence.
An anti-corruption commission referred the matter to the highest court, which reached its verdict "by a majority of its members," said Justice Sisi Khampepe. The Constitutional Court has no choice but to find that Mr. Zuma is in contempt of court. This kind of reticence and defiance is unlawful and will be punished," she said. I have no choice but to imprison Mr. Zuma, in the hope that this will send an unequivocal message…. The rule of law and the administration of justice prevail."
This Sunday afternoon, Zuma addressed several hundred supporters who had gathered outside his home in Nkandla, KwaZulu-Natal, since Tuesday to thank them for their support, and spoke to the press on Sunday evening. The former president denounced laws that would apply only to him.
"There can be no Zuma law" in South Africa, the former president said. His line of defence highlights the fact that he was convicted without trial. "I am afraid that South Africa will fall back into apartheid," dares Jacob Zuma.
It should be recalled that he has repeatedly refused to defend himself before the Constitutional Court. It is these refusals, and others before them, that have motivated his conviction. "Yes, I am not afraid to go to prison for my ideas," Jacob Zuma reaffirmed, referring to his 10 years in prison on Robben Island alongside Nelson Mandela in the 1960s.
The former South African president, sentenced to 15 months in prison for contempt of court, did not go into prison as required by the Constitutional Court. The court agreed to hear his application to have his sentence quashed on July 12.