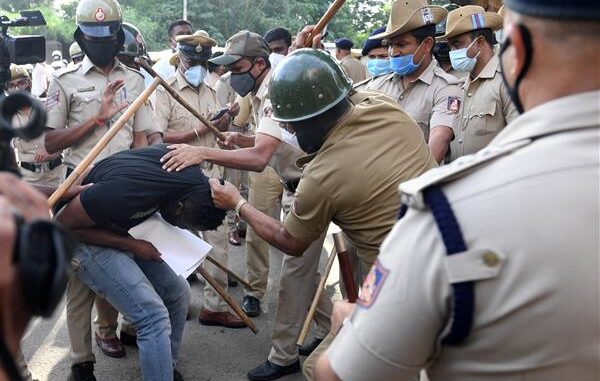 A demonstration of the African diaspora in India took place on Monday, after the official announcement of the death of a Congolese student who was in the hands of the police, an official source said.
The Congolese student, Joel Shindani Malu, had been arrested overnight on suspicion of possessing drugs, a police source said.
Crying racism, the African community of the city, mobilized by a group called "Pan-African Federation", organized a demonstration following which at least six nationals of African countries were injured in scuffles with police. The daily Deccan Herald reported that the man in question was a national of the Democratic Republic of Congo. His visa and passport had expired in 2015, according to India's NEWS18. VOA's attempts to confirm these details with Congolese authorities did not receive an immediate response.
Joel Malu, 27, was arrested by police Sunday for possession of a small amount of ecstasy pills, an illegal drug, and died in police custody Monday morning of cardiac arrest, according to an official. The student had previously been diagnosed with bradycardia, and attempts to revive him were unsuccessful, the same source said.
After his death, several African nationals staged a protest outside the police station and fought with police officers. The protesters denied the police's claim that Joel Malu had died of heart failure and accused them of wrongfully detaining him. Police used batons to push the protesters back and arrested a dozen. Police said they have opened an investigation into the death.