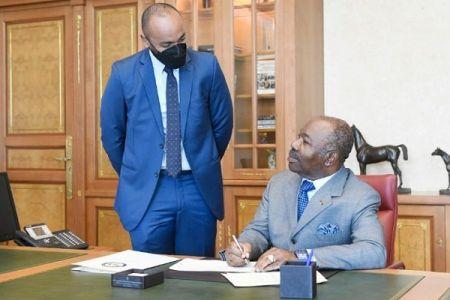 Noureddin Bongo Valentin had been the general coordinator of presidential affairs for 21 months. On Monday, the government, meeting in the Council of Ministers, decided "to return him to his original administration". His position has been abolished.
The ousting of Noureddin Bongo Valentin is like a mini political earthquake in Gabon. Nothing foreshadowed such an outcome so much this son of the head of state Ali Bongo Ondimba was presented as the control tower of the presidential palace.
He was barely 27 years old when on December 5, 2019 Noureddin Bongo Valentin was appointed General Coordinator of Presidential Affairs. The opposition had immediately suspected a willingness of Ali Bongo to prepare his son for his succession. The presidential palace had explained that the head of state needed a man of confidence at his side.
During these 21 months of activity, Noureddin has been at the heart of major decisions and issues. In an open letter that he gave to his father after being sent back to his original administration, Noureddin Bongo Valentin claimed several successes, such as the recent agreement with the IMF, the cleaning up of the domestic debt, but also the launching of infrastructure projects.
The handing over of Noureddin Bongo Valentin to his administration of origin, is not a dismissal, a sidelining or a dismissal, assured in a press conference, the spokesman of the Presidency of the Republic Jessye Ella Ekogha.
Why did Noureddin Bongo lose his position? Will he be appointed to a new position soon? This is the question that everyone is asking. Another position, that of High Commissioner of the Republic, has been created but its occupant is not yet known.