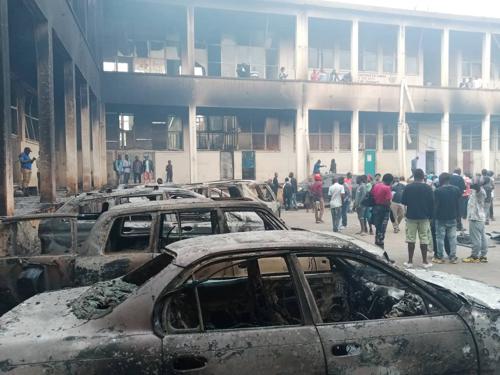 A spectacular fire destroyed on Tuesday night in the center of Bukavu, capital of South Kivu in Eastern DRC, a large building that housed the regional station of the official Congolese television.
There were no casualties, but "the damage is enormous," said Jérémie Basimane, spokesman for the provincial government.
The building, the "Hôtel de Poste", built before independence, used to house postal services but had been transformed over the years into a large multi-service center for the public and private sectors, which was poorly maintained, according to residents. In addition to the premises of the Congolese national radio and television station (RTNC), several other private media outlets, law firms, churches and various offices, administrative services such as the biometric passport capture center for eastern DRC, were located there.
They went up in smoke, as well as vehicles that were parked in the building, Basimane said. A fire had already broken out in the building ten years ago. The cause of this new fire is not yet known.