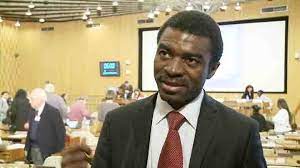 Audrey Azoulay, Director General of Unesco, has just appointed the new Director of Unesco's World Heritage, who for the first time is an African. Lazare Eloundou Assomo, 53, from Cameroon, was previously head of the Culture and Emergencies sector at UNESCO. Next year, the UNESCO World Heritage Convention, signed by 193 countries, will celebrate its 50th anniversary.
1 154 sites are currently inscribed on the World Heritage List. For Lazare Eloundou Assomo, the new director of World Heritage, there is still a lot to be done: "Many regions in the world are not sufficiently represented especially Africa and the small island states. Just because we don't have an Eiffel Tower doesn't mean that the sites are not important or don't have outstanding universal value. We will launch a dialogue with all States to correct this imbalance.
Lazare Eloundou Assomo left Cameroon at the age of 17 to study architecture and urban planning in France. He began his career as an associate researcher at the International Centre for Earth Construction at the Grenoble School of Architecture in 1996. His first professional steps took him to South Africa where he built housing in townships. His work was praised by Nelson Mandela, who visited the site where he was working. It was a nice surprise," he remembers, "and a moment you never forget in your life. He invited me for tea because the way we were working with communities to meet their needs matched his way of doing things.
Lazare Eloundou Assomo joined UNESCO in 2003. He contributed to the creation of the African World Heritage Fund and coordinated several heritage restoration projects in Africa, notably in Mozambique (the fortress at the Ilha World Heritage Site), Uganda and Mali. He is the author of the book "African World Heritage: A Remarkable Diversity", co-authored with Ishanlosen Odiaua and published in 2012 by UNESCO.