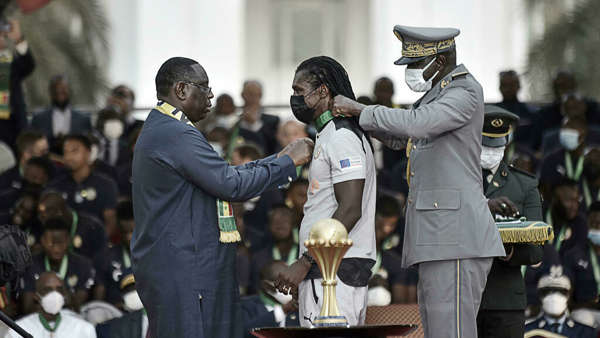 The Senegalese president, Macky Sall, rewarded, on Tuesday February 8, the players of the national soccer team, winners for the first time of the African Cup of Nations, with a sum of about 75,000 Euros each and two fields in Dakar and Diamniadio.
Senegal, which had welcomed Monday the return of the Lions of Teranga by a real human tide in the streets of the capital, paid Tuesday a more official tribute to the African champions, received at the presidential palace.
The head of state expressed, in front of several thousand people, how much the team of captain Kalidou Koulibaly had fulfilled the expectation of a nation that vibrates for soccer and put an end to the frustration of entire generations.
"We dreamed of the cup, you built this dream and you realized it. Finally, here among us the African Cup of Nations soccer," he said.
"You have honored the nation, in return the nation you are so proud of owes you honors," he said.
The Senegalese president decided to decorate the players and all the members of the delegation, more than 60 people in total, in the National Order of the Lion, or to raise them in rank for those who had already been distinguished in the past.
The players and members of the delegation will receive a bonus of 50 million CFA francs each (about 76,000 Euros), a considerable sum by Senegalese standards, a 200-square-meter field in Dakar, and another 500 square meters in the new city of Diamniadio, whose development is dear to the head of state.
Sadio Mané, gratified with the coach Aliou Cissé of the particular praises of the President, made a whole country capsize of happiness on Sunday by scoring the decisive goal against Egypt in the final of the CAN-2022.
Macky Sall, who had set the coach and players the goal of returning with the title before they left for the CAN in Cameroon, turned his eyes to the World Cup-2022 in Qatar at the end of the year: "Aliou, I do not ask you to win the World Cup, but a place in the semi-finals," he said.