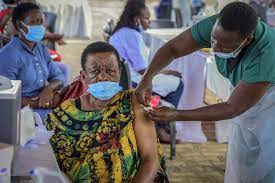 BioNTech, the German laboratory behind Pfizer's messenger RNA vaccine, has unveiled two 12-container modules that will be set up in Rwanda or Senegal and possibly both countries to manufacture the vaccine locally.
This mobile plant will be sent to the site in the second quarter of this year, with the first doses expected to be available twelve months later. Opening a conventional plant of this type normally takes three years. The challenge, says BioNtech's CEO, was to make the manufacturing process so compact that it could fit into a single container, the idea being to standardize the 50,000 or so steps required before the vaccine is available.
BioNTech employees will work on site initially and then train local specialists to "hand over the plant in the medium to long term".
It is therefore a transfer of certain technologies, but without the lifting of patents demanded in particular by many developing countries and NGOs.
After Rwanda and Senegal, South Africa could be the next country to join this production network.
Africa is the least vaccinated continent. More than a year after the first Covid-19 vaccines were administered and two years after the start of the pandemic, only 12% of Africans have been fully immunized.