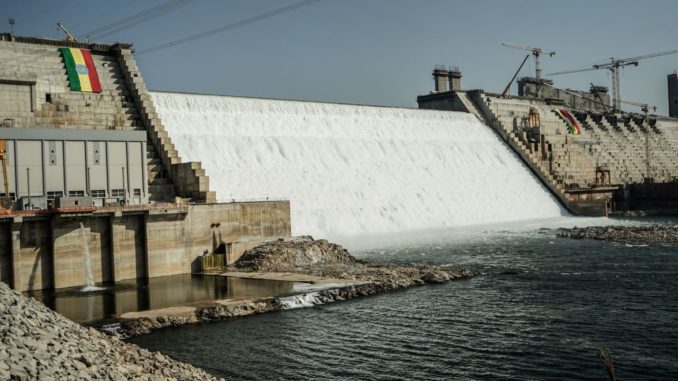 Ethiopian Prime Minister Abiy Ahmed on Sunday officially launched power generation at the controversial multi-billion dollar Renaissance Dam on the Blue Nile.
Accompanied by many senior officials, Abiy Ahmed toured the power plant and clicked a series of switches on an electronic screen to start production, officials said.
"This great dam was built by Ethiopians, but for the benefit of all Africans, for all our African brothers and sisters to enjoy," said a senior official attending the inauguration.
The Gerd ("Grand Ethiopian Renaissance Dam") is, since the launch of the project in 2011, a dispute with Sudan and Egypt, both dependent on the Nile for their water resources.
Cairo invokes a "historic right" over the river, guaranteed since a treaty signed in 1929 between Egypt and Sudan, then represented by the United Kingdom, a colonial power. Egypt had obtained a right of veto on the construction of projects on the river.
In 1959, after an agreement with Khartoum on water sharing, Egypt was allocated a quota of 66% of the annual flow of the Nile, against 22% for Sudan.
Ethiopia was not a party to these agreements and never considered itself bound by them. In 2010, a new treaty signed by the Nile Basin countries, despite opposition from Egypt and Sudan, removed the Egyptian veto and authorized irrigation and hydroelectric dam projects.
Located on the Blue Nile, about 30 kilometers from the Sudanese border, the Grand Renaissance Dam is 1.8 kilometers long and 145 meters high.
According to the Ethiopian state media, the initial production of the GDR is around 375 MW with the commissioning of a first turbine. The initial production target was 6,500 megawatts and was revised downwards to 5,000 MW, for a total estimated cost of 4.2 billion dollars (3.7 billion euros).