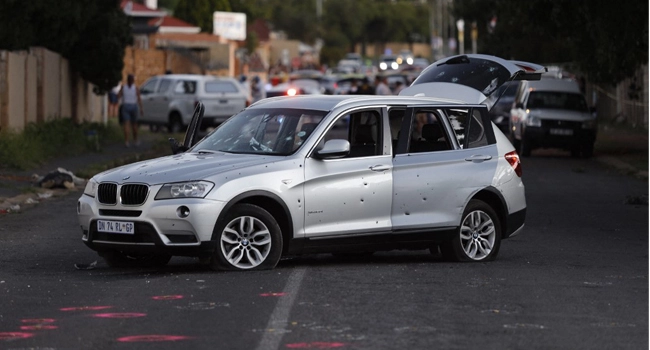 South African police said Monday they killed 10 suspects and wounded five of their men in an attempted robbery of a cash courier in Johannesburg, one of the country's bloodiest shootings in recent years.
Informed by a "tip-off," police deployed forces, including a helicopter, to try to prevent the planned attack in Rosettenville, a southern Johannesburg neighborhood, according to Police Minister Bheki Cele.
Cele reported that eight suspects were killed, before police spokeswoman Grace Landa put the death toll at ten suspects and five police officers injured.
The suspects came to attack a vehicle carrying cash and opened fire on the helicopter, injuring one of the pilots, Cele said. The police then returned fire, and more of their men were wounded in the exchange of fire.
"They shot at the helicopter before we did anything against them. They shot at the pilot," Cele told reporters at the scene.
According to him, a gang of about 25 armed men from the southwestern province of KwaZulu-Natal, but also from neighboring Zimbabwe and Botswana, was involved in the attempt.
In addition to the eight dead, eight suspects have been arrested and the others are on the run, he added.
Attempted robberies of cash couriers are common in South Africa, where the level of crime is very high.
Police reported last week that there were 60 robberies of cash couriers in South Africa between October and December 2021, down slightly from the same period in 2020.