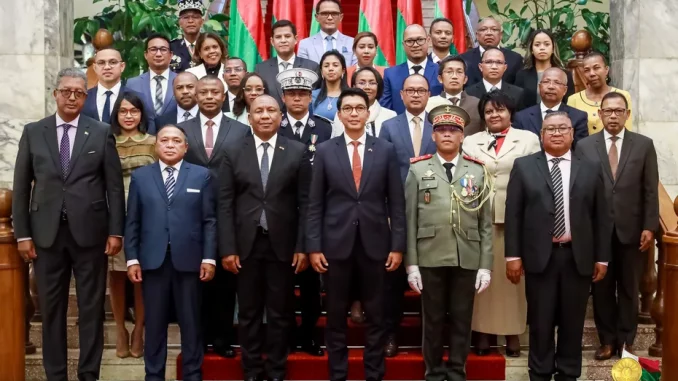 Malagasy President Andry Rajoelina made a cabinet reshuffle, the fifth in three years. In the end, there was no major upheaval: the Head of State kept his close guard and his Prime Minister.
Five new ministers joined the government, two changed portfolios, and two others made their comeback after being ousted during a previous reshuffle. Seven were dismissed.
However, at the head of the strategic ministries – Finance, Defense, Public Security, Communication – the President has opted for continuity. Only the Minister of the Interior, Pierre Houlder, had to give up his place to the Governor of Sava, Tokely Justin, to take over the portfolio of Land Management and Services, left vacant following the announcement of the departure of Haja Andranainarivelo.
In the justice sector, the resigning minister Herilaza Imbiki (following suspicions of corruption) has been replaced by magistrate François Rakotozafy. It was he who had presided over the Special Electoral Court in 2013 at the end of the Transition.
The surprise may come from the reinstatement of Richard Randrimandrato, ex-Minister of Finance, and Fidiniavo Ravokatra, ex-Minister of Mines, after having been excluded from the government for seven months. The former has taken over the portfolio of the Ministry of Foreign Affairs, the latter that of Water.
The main ministers who have been in the news in recent weeks seem to have benefited from the clemency of the head of state. Starting with Tinoka Roberto, former Minister of Transport, who made a name for himself by announcing a ban on laptops and wheeled suitcases in the cabin. He takes over the Ministry of Sports. His great closeness to the inhabitants of the south-west of the island, less than two years before the presidential elections, is probably not for nothing.