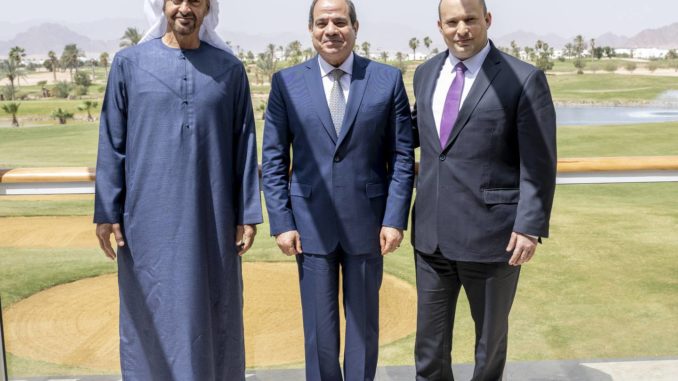 Egypt's president hosted Israeli and Emirati leaders on Tuesday, a rare tripartite summit at a time when the war in Ukraine is shaking up energy and food markets and major powers are closing in on a new Iran nuclear deal.
The meeting brought together in Sharm el-Sheikh, a resort on the Red Sea, President Abdelfattah al-Sissi, Israeli Prime Minister Naftali Bennett and the de facto leader of the United Arab Emirates, Mohammed bin Zayed.
The tripartite meeting, the first of its kind between the three leaders, focused "in particular on energy and food security" in the context of the war in Ukraine, according to Egyptian presidential spokesman Bassam Radi.
The Gulf oil countries, including the Emirates, are resisting Western pressure to increase production and curb the surge in crude prices caused by the Russia-Ukraine war.
Egypt, which imports 85% of its wheat and 73% of its sunflower oil from Ukraine and Russia, has been hit hard by the unprecedented surge in grain and oil prices.
Egypt, Israel and the Emirates are allies of the United States, but they also have relations with Russia and their position has remained cautious in the face of the war.
On Tuesday, the official news agency of the UAE, WAM, said the meeting in Sharm el-Sheikh focused on "strengthening relations as well as the importance of cooperation, coordination and dialogue to meet the aspirations of development and stability in the region.
The meeting also comes against the backdrop of talks between Iran and the major powers on the issue of Iran's nuclear program, whose impact of a potential agreement is gauged by Israel and several Arab countries, such as Egypt and the UAE.