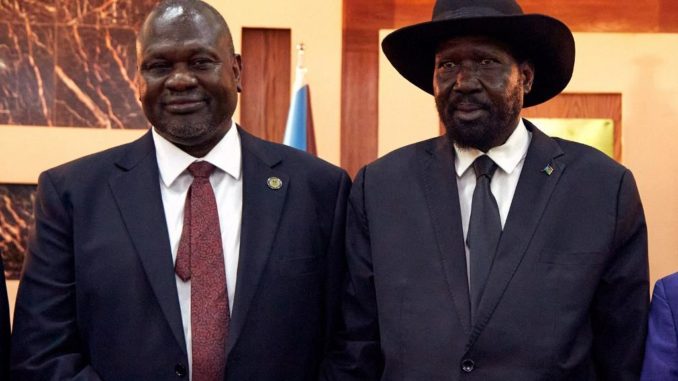 In South Sudan, rival leaders signed an agreement Sunday on a key military provision of the 2018 peace deal, after mediation by neighboring Sudan. The two sides agreed to form a unified armed forces command.
This unified armed forces command has long been one of many critical unresolved issues delaying implementation of the 2018 pact to end five years of civil war.
President Salva Kiir and his rival, Vice President Riek Machar, have agreed to create a unified command of the armed forces.
"Peace is a matter of security and today we have (reached) an important step," said Martin Abucha, who signed the agreement on behalf of Machar's opposition party, the SPLM/A-IO.
"This is to inform everyone that we are for peace and we are all working for peace," added Kiir's security adviser, Tut Gatluak.
Tensions between forces loyal to Kiir and former rebel leader Machar have escalated recently, raising fears in the international community of a return to widespread conflict in the world's youngest nation.
Both men were present at the ceremony in the capital Juba for the signing of the agreement, which stipulates a 60-40 split of key leadership positions in the army, police and national security forces. Mohamed Hamdan Daglo, currently the number two in Sudan's post-coup ruling council, had arrived in Juba on Friday.
Sudan drafted the proposal after Salva Kiir issued a presidential decree on March 25 on the formation of the command structure, a decision that was quickly dismissed by Machar as a "unilateral" action.