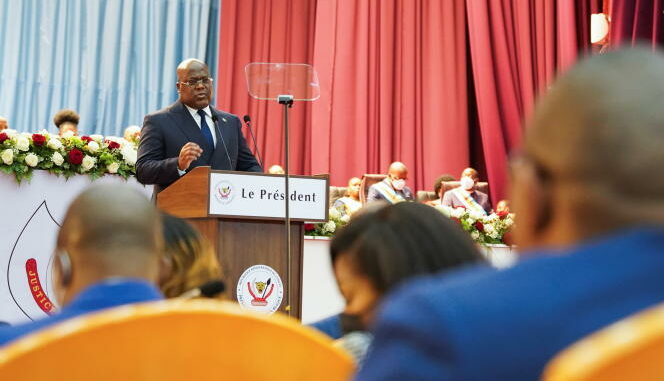 With a year and a half to go before the presidential election, the candidacy season has begun in the Democratic Republic of the Congo and is already causing a stir, heralding a pre-election crisis against a backdrop of community tensions.
Until recently, the only declared candidate was the incumbent president himself, Felix Tshisekedi, who announced in 2020, three years before the end of his term, that he would run for a second term, as allowed by the constitution. But since early May, the political terrain has been heating up.
Former Prime Minister Augustin Matata Ponyo (2012-2016) has taken the other contenders for the presidential chair by surprise by announcing his intention to enter the race. Accused of alleged misappropriation of public funds when he was head of government, Matata, who denies any wrongdoing, saw his horizon lightened last November when the Constitutional Court ruled that it had no jurisdiction to try him, cutting short the case against him.
Suspicions of corruption were raised about the president of the court, Dieudonné Kaluba, who, despite Matata's denials, was removed from office on May 10 in a strange and contested lottery procedure.
Many saw this as the hand of the presidency, which did not want to keep him at the head of this body, which is crucial to the electoral process since it ultimately proclaims the results of the presidential and legislative elections.
The results are sometimes violently contested, as in 2006 and 2011, resulting in dozens of deaths.
The announcement of the candidacy of Augustin Matata has also prompted other candidates to come out of the woodwork. On the starting line, there will be Martin Fayulu, unhappy candidate in the 2018 presidential election who, when questioned, declared that he is "naturally" a candidate for the 2023 election.
His ally of the opposition coalition "Lamuka" is also announced: "Adolphe Muzito is the natural candidate of the party 'Nouvel élan'", assures its secretary general Blanchard Mongomba.
For his part, the former governor of Katanga, Moïse Katumbi, is still holding back. But one of his close friends says that his candidacy for the presidential elections "is imperative".