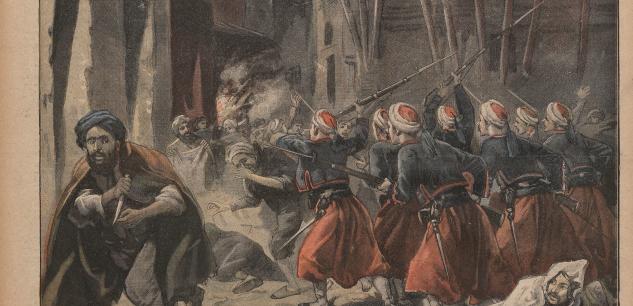 Since its independence, successive governments in Algeria have adopted policies and speech that is downright hateful towards Israel and Jews, deeply rooting anti-Semitism in the very foundations of the country.
Lela Gilbert, a Fellow at Hudson Institute's Center for Religious Freedom, has analyzed this situation as well as Iran's plans to export a newly energized and militant form of Shiite Islam and to destabilize Sunni regimes in the Middle East and North Africa.
In an article published recently by Fathom Journal, the author recalled that Algeria once had 140,000 Jews. But today only an estimated 200 Jews remain in the North African country. "They are marginalized by the Islamist state which also discriminates against its Christians – particularly those who are converts from Islam. Today about .04 per cent of Algerians identify as Christians; Jews represent less than .01 per cent."
Lela Gilbert imputes the rise of anti-Semitism across the Middle East and North Africa to the changes occurred after the 1979 Iranian Revolution, when the new Islamist regime strove to 'export' a newly energized and militant form of Shiite Islam.
"Although Sunni Islam remains numerically dominant in Algeria, in recent years the country has come under the shadow of Iran's dogma," she recalls, noting that "Algeria has been an instrument of power for Iranian campaigns to export destruction and instability to North Africa, as it did in Yemen and Syria."
She argues that Algerian intelligence's close coordination with Iranian and Hezbollah officers represents a present danger to Arab and American interests.
"Algeria has long been complicit in the Iranian government's grand plan to destabilize Sunni regimes. It has chosen to remain silent on Tehran's atrocious record of violence and mayhem in Yemen, Syria, and Lebanon. Now, Algeria is using the banner of the Arab League to attack other Arab nations and support the Mullahs' incursion in the Maghreb and the African Sahel…."
The author of the paper mentions as an instance of Iran's plans in the region, the role played by Iranian diplomat Amir Mousavi while he was serving as Iran's Cultural Attaché in Algiers, a period during which things went from bad to worse.
"The Foundation for Defense of Democracies (FDD) reported in 2018, when Amir Mousavi announced he would leave his position [as cultural attaché] after almost four years in Algeria, that 'The announcement followed accusations by Algerian activists and former officials against the Iranian diplomat over his alleged role in recruiting thousands of Shiite Muslims in Algeria on behalf of Iran.' FDD added: 'Mousavi's departure highlights Iran's persistent and unwelcome attempts to expand its influence in North Africa. Before his 2014 appointment, Mousavi was reportedly an Iranian intelligence agent as well as a brigadier general affiliated with the Islamic Revolutionary Guard Corps (IRGC). He also previously served as an Iranian cultural representative in Brussels and Sudan, and is known as a defender of pro-Iran Shiite militias such as Hezbollah in Lebanon and the Popular Mobilization Forces in Iraq.'
Although Amir Mousavi himself is no longer present in Algeria, Iran's ideology remains a force to be reckoned with in the country, the writer states, recalling that "for a time Algeria quietly retained the services of Hezbollah to train the Polisario militia."
In dramatic contrast, several other largely Sunni states – and notably Algeria's neighbor Morocco – have moved in the opposite direction, away from radical Islamist ideology. In 2020, Morocco, United Arab Emirates, Bahrain and Sudan normalized relations with Israel, making a powerful break – and a clearly defensive move – away from Iran's aggressive triumphalism, and 'Death to Israel' mentality, she recalls.
"Unsurprisingly, across Algeria, this normalization is widely viewed as abhorrent, and those who applaud the 'Abraham Accords' as treacherous," she comments, before recalling that in April this year, the United States Commission on International Religious Freedom (USCIRF) called for Algeria to be placed on the U.S. State Department's Special Watch List (SWL) as 'a country where the government engages in or tolerates "severe" violations of religious freedom.'